Preston fracking protest at Lancashire council offices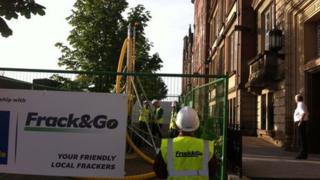 Protesters opposed to fracking set up a mock drilling rig outside Lancashire County Council's headquarters in Preston.
About 10 people from Greenpeace lobbied the development control committee who later this year will decide on a drilling application.
The committee met although the issue was not on the agenda.
Reports that Cuadrilla is preparing to restart drilling operations this month have been denied by the company.
Protesters were playing a soundtrack of drills, trucks and industrial plant as councillors enter the building.
'Don't need it'
Greenpeace said Lancashire is widely seen as the test case for whether fracking goes ahead nationally.
Liz Stanton from the group said: "We want them to say no to fracking in Lancashire.
"It's not going to bring jobs to the area and we just don't need it."
The fracking process involves pumping water and chemicals into shale rock at high pressure to extract gas.
Fracking was banned temporarily after it was blamed for two earth tremors in Blackpool in 2011.
A government review has since concluded that fracking is safe if adequately monitored.
Greenpeace campaigners erected mock drilling rigs on a village green outside George Osborne's constituency office in March in protest at fracking.
A Cuadrilla spokesman said: "We're committed to working with the community and are keen to take on board the views of local people as we continue to assess the full potential of the natural gas locked up in Lancashire's Bowland shale in a safe and responsible manner."
A spokesman for Lancashire County Council said no decision on fracking applications will be made by councillors until November at the earliest.