Fire-hit Lancashire school return is 'not impossible', says former head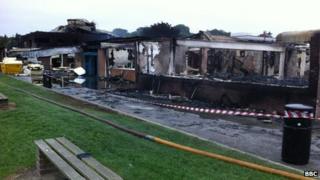 A high school gutted by a huge fire will come back better and stronger, according to a head teacher whose school suffered the same fate.
Staff and students at St Mary's Catholic Technology College in Leyland, Lancashire, were left in shock when their 700-pupil school was partially destroyed by fire on 1 September.
Seven years ago, Chris Morris, former head teacher of Darwen Moorland High School, received a telephone call saying his school was on fire.
After the initial shock, he said his thoughts turned to ensuring his pupils did not miss lessons.
With the support of the local council and staff who worked through the summer holidays, they opened the following term.
"Our situation was not as bad as Leyland," he said.
"We were very fortunate that we had seven to eight weeks to get things together. Sadly, in Leyland they do not have that amount of time.
"But where there is a will there is a way."
St Mary's head teacher Kathryn McNicholas has announced St Mary's will be opening on 16 September with all pupils back on one site.
'Huge challenge'
Ms McNicholas said the fact the school was not completely destroyed gave them hope.
Half the buildings are "still standing and repairable" and staff were committed to getting pupils back to school as soon as possible, she said.
Mr Morris, who is currently head teacher of Broughton Business and Enterprise College in Preston, said the Leyland school faced a huge challenge but the situation was "not impossible".
"The school might have to move the children elsewhere for a period of time but the heart of the school still remains," he said.
"People want to be reassured the school is safe and that things carry on."
About £500,000 worth of damage was caused to the main assembly hall of Darwen Moorland High with adjacent rooms and corridors also affected.
Mr Morris said all fire-damaged equipment was removed from the site, repair and rebuilding work started and school equipment was reordered.
But he said keeping staff, pupils and parents informed was key in the early stages following major disruption to the school community.
"The children have to be educated and we didn't want the period of time off to be too long," he said.
Darwen Moorland High closed in July 2008 under Blackburn with Darwen Council's Building Schools for the Future scheme.
'Blitz spirit'
Another Lancashire school, Brindle Gregson Lane Primary School in Hoghton, was destroyed by a fire 12 years ago.
Determined their school would survive, staff sourced classroom supplies from schools across Lancashire and temporary classrooms were erected on the school field so children could resume lessons.
Carol Briggs, a Year Three teacher at the time, said: "We had a very strong head teacher and she was very determined we would all stay together.
"There was talk of us being taken to different schools and the school would be split but she did not want that, none of us wanted that."
She added: "Good comes out of bad. It was the blitz spirit while we sorted out the supplies that we got and it was our school."
Mr Morris said he believed St Mary's would adopt the same stance.
"The school is the heart of the community, there will be so much disappointment," he said.
"But it will be rebuilt and it will be a better school and the school will become stronger."