Leyland school fire: St Mary's College new term delayed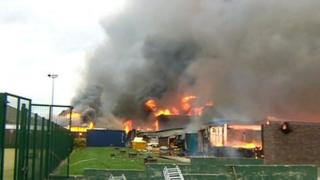 Pupils at a Lancashire school damaged in a massive fire on Sunday will not return until at least next week.
Education chiefs have held an emergency meeting to discuss where the 700 pupils at St Mary's Catholic Technology College in Leyland can be taught while the school is repaired.
Head teacher Kathy McNicholas said: "We're looking at all sorts of options for possible venues."
Five boys, aged 11 to 15, were arrested on suspicion of arson and bailed.
Ms McNicholas said half of the buildings were "still standing and repairable".
She said some lessons would take place elsewhere, but added: "We're really, really keen that individual year groups are kept together so children would be with their year group family and they would still get that sense of being part of St Mary's."
Firefighters said foam roofing materials in a 1950s part of the school, plus the fact there was no sprinkler system, contributed to the rapid spread of the flames.