'No criminal charges' over blind man Tasered in Chorley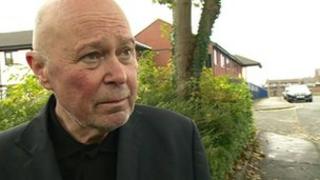 No criminal charges are to be brought against a police officer who Tasered a 63-year-old blind man whose white stick was mistaken for a samurai sword.
Colin Farmer was targeted with the stun gun by a PC who received reports of a man walking through Chorley in Lancashire with a sword last October.
His solicitor Sophie Khan said the Crown Prosecution Service said there was "insufficient evidence" for action.
But she said misconduct proceedings could be brought against the officer.
Ms Khan said the Independent Police Complaints Commission (IPCC) had recommended gross misconduct proceedings should be brought against the officer.
Ms Khan said a civil case for damages against Lancashire Police launched in January would remain on hold until the force decided whether to act on the IPCC's recommendation.
'Scared to go out'
Ms Khan said: "I have been informed by the Crown Prosecution Service (CPS) that they would not be bringing any criminal charges against the officer who Tasered my client, Colin Farmer.
"My client is disappointed with the decision and disputes the reasons given by the CPS and we will seek to challenge the evidence through the civil claim against Lancashire Constabulary."
She said she had written to the force about gross misconduct proceedings but was awaiting a response.
Lancashire Police were unavailable for comment on the IPCC's recommendation.
Mr Farmer, who is registered blind and has suffered two strokes, said he had thought he was being attacked by thugs when it happened.
He was walking to a pub to meet friends at the time and said the Tasering forced him to drop his stick and fall to the ground.
He said the experience had left him scared to go outside.
Ch Supt Stuart Williams has previously said the Lancashire Police force "deeply regretted" the incident.