Shop Direct call centre staff in Preston on last shift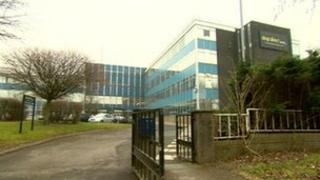 Staff are finishing their last shift at a Preston call centre before it shuts.
In total, 475 jobs are to go at the Shop Direct site on London Road. About 250 members of staff left on 2 August, with about 60 due to leave later.
Others have already left due to taking early retirement or securing alternative employment.
Serco, which runs the home shopping company's site, said the closure was due to a "dramatic shift to online shopping".
It added a number of staff had been relocated to other sites in Bolton and Aintree.
'Strange month'
Carl Patching, from Serco, thanked staff for their "commitment, professionalism and excellent customer service in difficult circumstances".
Wendy Murphy, a former worker at the site and area organiser for the USDAW union, said it was a "very sad day".
She said: "It's the end of an era for Preston, because Shop Direct has been a major employer in the area for many years.
"It has been a bit strange for the past month. When you have gone on the call centre floor, it has been almost empty."
The company is also closing another call centre in Worcester with the loss of about 306 jobs.