Theft of gravestones from Haggate cemetery 'despicable'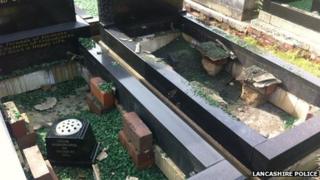 The theft of seven gravestones from a Lancashire cemetery has been described as "despicable" by police.
The York stone flags, which were removed from graves at Haggate burial ground, near Briercliffe, were taken between Monday and Wednesday.
PCSO Rachel Lonsdale said the stones "vary in size" but were all around 3ft x 2ft (90cm x 60cm).
She said there were 12 stones left stacked nearby "which we believe the offenders may have attempted to steal".
In July 2012, 12 stones were taken from the same cemetery. No-one has been arrested over that offence.
Ms Lonsdale said anyone with information about either incident should contact police.