The Script pull out of Blackpool Illuminations gig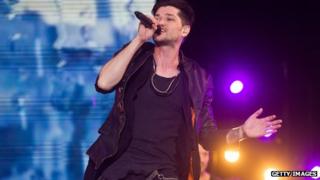 Irish rockers The Script have cancelled their appearance at the Blackpool Illuminations concert on Friday citing a "serious family illness".
Natalie Wyatt, managing director of Marketing Blackpool, said the Switch-On weekend would not be affected and they were looking for a replacement band.
Blackpool Council leader Simon Blackburn added: "We're working to ensure the show will go on."
TV presenter Jonathan Ross is to turn on the Illuminations following the gig.
A statement from The Script's management said: "It is with deepest regret that The Script have had to cancel both their Leeds Academy (29 August ) and the Blackpool Illuminations Switch-On concert (30 August) shows due to a sudden serious family illness."
Ms Wyatt said: "We are deeply saddened that The Script have been forced to cancel their Blackpool Illuminations gig but we totally understand and appreciate that personal family matters take priority and our thoughts are with the band and their families at this time."
She added that the concert by Madness - the second day of the Switch On weekend - will go ahead as planned.