Martin Mere flamingo chick success 'spurred on' by summer sun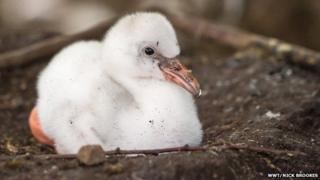 The first successful flamingo hatchings at a Lancashire nature reserve in six years were "spurred on" by the recent good weather, staff have said.
The two Chilean flamingos are the first of five eggs expected to hatch at Martin Mere, near Burscough, in August.
Centre manager Nick Brooks said the birds usually lay "later [which] can cause complications", but hot weather had meant they were early.
He said staff were "confident they'll successfully rear them" as a result.
The centre, which is run by the Wildfowl & Wetlands Trust (WWT), has been home to a flock of 59 Chilean flamingos since 1976.
'Flock gets busy'
Mr Brooks said that in recent years, the birds have laid eggs later in the summer, leading to difficulties after hatching.
"With the shortening day lengths, cold weather and lack of sunlight, the chicks often fail to grow properly and unfortunately often do not survive," he said.
He said staff were particularly happy, as "generally when the first egg is laid, the rest of the flock takes note and gets busy laying, so it is really good news and means we have a number of chicks all around the same age to form a crèche".
"With these nice long days, the chicks will have lots of time to get big, strong and healthy before the winter sets in," he said.
"We are pleased the weather has spurred them on to lay so early and despite a cold spring, it has turned into a very good breeding season."
He added that the chicks would be fully-fledged within three months and would get their full pink plumage within three years.
The reserve's flock of 139 birds includes 59 Chilean and 80 greater flamingos.