Toy firm joins Burnley's enterprise revolution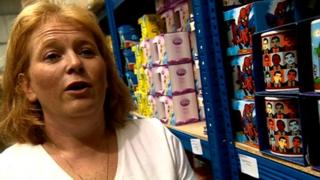 When she started selling toys on the internet from her Burnley kitchen, Rachel White had no idea that within eight years the business would be turning over £1.3m.
Now with six employees and based in a 5,000 sq ft warehouse, Thingimijigs is part of an enterprise revolution in the Lancashire town, which has just been named the most enterprising place in the UK by the government's Department for Business, Innovation and Skills.
The 40-year-old mum-of-three started the business in 2005 as a way of earning some money while working around school and nursery hours.
She involved children Ellie, five, and Alfie, three, to pick out the toys they liked, using them as a junior focus group.
Within two years the house was packed with stock and postmen were delivering and collecting several sacks every day.
But still, when Ms White approached Burnley Council for help writing a business plan and finding a small warehouse unit, she said: "I remember telling them we might be lucky and make about £400 a week."
Now the business is preparing to move into purpose-built 10,000 sq ft premises and take on more temporary Christmas staff.
Ms White said: "I feel really proud. It's not easy, it's been a long slog but it shows you can do it.
"From our kitchen table with £200 and a computer we've built this business."