East Lancashire NHS Trust faces 79 negligence claims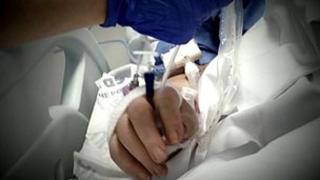 Solicitors investigating claims against Mid Staffordshire hospitals are also probing 79 negligence cases against two Lancashire hospitals.
The potential claims are against the East Lancashire NHS Trust which runs the Royal Blackburn and Burnley General hospitals.
It was placed into special measures after Sir Bruce Keogh's investigation into hospital death rates.
The investigation was sparked by concern over the Mid Staffs trust.
The Keogh inquiry, which reported last month, was set up after a report into high death rates at two hospitals in Mid Staffordshire earlier this year found there were hundreds more deaths than expected, with patients let down by poor standards of care.
Keogh investigated 14 trusts and put 11 into special measures, including East Lancashire and Tameside Hospital NHS Foundation Trust.
Three law firms have confirmed they are acting on behalf of patients' relatives from East Lancashire.
Irwin Mitchell has 49 cases from East Lancashire, Pannone has 27 and Leigh Day has three.
'Soiled sheets'
Adam Lamb, of Leigh Day, said: "The kind of issues that our clients complain about are where they have not received hydration or nutrition, where they have been left sitting in soiled or wet bed sheets, and where they have not received any medication or where there has been poor communication between the families and the hospital."
Mark Brearley, Chief Executive at East Lancashire Hospitals NHS Trust, said: "The trust works hard to maintain high standards of health care.
"We understand things occasionally go wrong, and when that happens we encourage patients, their relatives or carers to tell us about it.
"In all reported clinical negligence cases, the trust works in collaboration with the NHS Litigation Authority (NHSLA)."
The law firms also have cases involving Tameside NHS Hospital Trust and Blackpool Teaching Hospitals NHS Trust, which were also investigated by Keogh, although Blackpool was not put into special measures.
Pannone has 40 cases from Tameside and 25 from Blackpool, Irwin Mitchell 19 from Tameside and 11 from Blackpool, while Leigh Day has two from Tameside and one from Blackpool.
A spokesman for Tameside Hospital said: "As of June 2013 the trust had 87 claims open with the NHS Litigation Authority, which handles claims on our behalf."
The Department of Health said: "The vast majority of patients get good, safe care".
It added that the best way to reduce compensation claims was to improve patient safety further and that this was a priority.