Fishergate, Preston: £3.4m plan for city centre shopping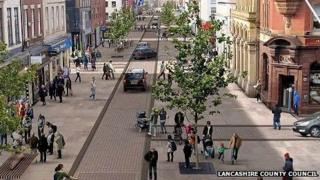 Work is starting on a £3.4m plan to make one of Preston's main shopping streets more pedestrian-friendly.
The city council hopes the scheme will make Fishergate more appealing to businesses and shoppers.
Traffic will be cut to one lane, footpaths will be widened, trees planted and new street furniture installed.
The work is expected to be completed by Christmas and the council has warned of traffic disruption until November.
Phil Barrett, director of Lancashire Highway Services, said: "We're keenly aware of the potential impact on businesses in the short-term, so will be doing all we can to minimise disruption and won't be obstructing the entrance to any business during opening hours."
The work is part of the Fishergate Central Gateway project, which will improve the main approaches to the city centre.
Leader of the county council Jennifer Mein said the project would be "a great boost" for the city.