Lanzarote drowning: Nikki Bate 'loving and devoted'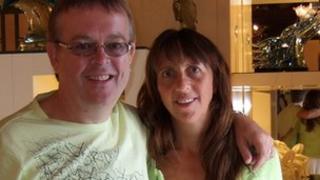 The husband of a woman from Lancashire who drowned on the Spanish holiday island of Lanzarote has called her a "loving and devoted wife and mother".
Mother-of-three Nikki Bate, 48, from Whalley, was pulled from the water at Famara Beach on Thursday afternoon.
Tony Bate said he attempted to rescue his wife, who had gone for a swim "to cool off", and at one point managed to get hold of her.
Lifeguards and paramedics who attended the scene were unable to save her.
In a statement, Mr Bate said: "She was a loving and devoted wife and mother and the family will all miss her dreadfully.
"The children are remaining strong, but are devastated at the loss of their mother. We are deeply grateful for the help and support of our friends and family here and in Lanzarote."
Surfing beach
It is understood the family have a home on the island and were on their annual summer holiday.
The Foreign Office said it was providing consular assistance to the family "at this difficult time".
Lanzarote, the easternmost of the Canary Islands, is one of the most popular destinations in Europe for British tourists.
Another British national died on the same beach in April after being pulled unconscious from the sea by fellow bathers.
The beach, on the island's north coast, has become increasingly popular with surfers from around the world in recent years, according to local tourism websites.