CCTV image released after woman raped near Blackpool Zoo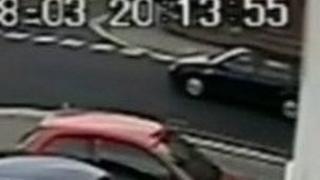 Police investigating the rape of a woman who was attacked after accepting a lift from a man she thought she knew have released a CCTV image of the dark blue car they believe was involved.
The victim, who was on crutches, was approached as she walked along Palatine Road in Blackpool, on Saturday evening.
The man called her over by name and offered her a lift, police said.
He then drove her to Woodside Drive near Blackpool Zoo before raping her in a nearby wooded area.
Police said he then drove off and left her at the scene where she flagged down a passing male cyclist who went to get help.
Det Insp Gareth Willis said he was keen to speak to the cyclist and three men who were seen walking past at the time the driver called the victim over to the car.
The offender is described as being Middle Eastern in appearance, of medium build, between 5ft 5ins (1.7m) and 6ft (1.8m) tall with short black spiky hair, and prominent eyelashes.
He was wearing a white ribbed jumper with dark blue jeans and was driving an old, small dark blue car.