Barnoldswick votes to honour Yorkshire Regiment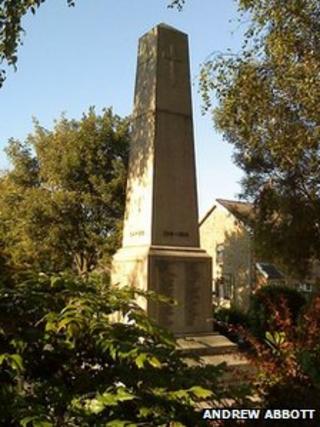 A council has decided to award the freedom of a Lancashire town to Yorkshire soldiers.
Barnoldswick Town Council voted to award the honorary freedom to the Yorkshire Regiment on Thursday.
The town falls under the jurisdiction of Pendle Borough Council, but was historically part of Yorkshire.
Council chairman Ken Hartley said the award was not an attempt to "restart the War of the Roses, just a desire to recognise our heritage".
The honour will be conferred on the regiment at a ceremony in September, which will also see the rededication of the town's war memorial after 46 additional names were added.
Mr Hartley said that of the 317 names which would now be on the memorial, 126 were associated with the Yorkshire Regiment.
The regiment was formed in 2006 by the amalgamation of the Prince of Wales's Own Regiment of Yorkshire, the Green Howards, The Duke of Wellington's Regiment and associated army reserve units.
He said most of the names were from WWI, when Barnoldswick was a "rural district council and not part of Pendle".
"The Duke of Wellington's Regiment had recruiting offices in Earby, Barnoldswick and Colne and had great success in recruiting our own local townsfolk," Mr Hartley said.
"Indeed, the 6th Battalion The Duke of Wellington's Regiment led the 1919 WWI Victory Parade in Barnoldswick."