'Strangled' dog found on farmland near Pendle Hill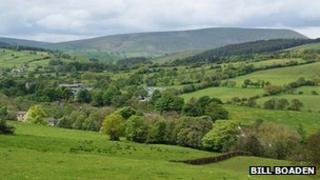 The body of a dog, which police believe was "strangled", has been found on farmland in Lancashire.
The lurcher was discovered by a farmer in a field at the bottom of Pendle Hill, near Nelson, on Tuesday morning.
Lancashire Constabulary wildlife crime officer Mark Thomas said the dog had been "worrying a sheep [which] is being treated for a bite mark", but had no visible injuries.
He said the dog could have been connected to poachers.
He added that the lurcher was "not microchipped, so I'd appeal to anybody that has information about how it came to be in the field, or who it belongs to, to call police".
The Animals Act 1971 gives farmers a legal right to kill any dog that is worrying their livestock.