Colony of pipefish found under Blackpool's Central pier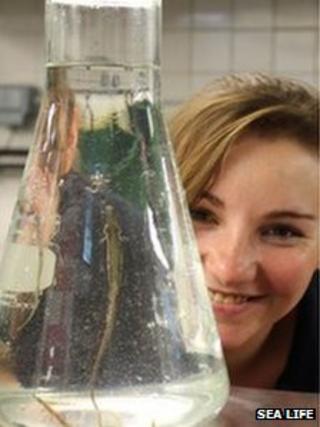 A colony of lesser pipefish has been found in water under Blackpool's Central Pier.
The lesser pipefish, or Nilsson's pipefish, are part of the sea horse family.
They were found during a Blackpool Beach Clean, a joint project run by Sea Life Blackpool and Turning Tides.
Sea Life Blackpool curator Scott Blacker said the discovery was the first of its kind in the area and there could be up to 500 fish in the colony.
Mr Blacker said: "Pipefish are more commonly found in areas with a wide variety of kelp, sea grasses and seaweeds so to find them around the iron legs of a pier is very rare.
"Discovering any type of marine life thriving in our coastal waters is good news as it means that the water is of a good enough quality to support life."
On display
He said finding the fish in such abundance was "amazing news" as they were susceptible to changes in water quality and habitat destruction.
Mr Blacker said a group of seven baby lesser pipefish were rescued from an "emptying" rockpool where they had been caught as the tide went out.
"To ensure we gave them the best chance of survival we have put them on display at Sea Life Blackpool," he said.
Neil Garrick-Maidment, from the Seahorse Trust, said: "To have such a large colony is good news and shows the seas are thriving and hopefully with the forthcoming Marine Conservation Zones (MCZ) it will only get better around the British Isles."
The government is currently consulting on 31 of the 127 proposals for MCZs around the UK.
The MCZs have primarily been set up to help conserve marine biodiversity, in particular species and habitats of European and national importance.