PNE v Blackpool pitch invasion 'disgraceful' police say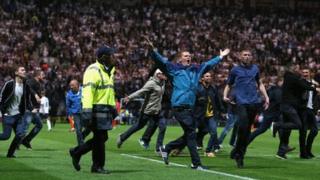 A "significant minority" were intent on causing trouble at Preston's League Cup win over Blackpool which ended with a pitch invasion, police have said.
Ch Insp Nick Emmett said the behaviour of those involved in the disorder at Deepdale was "absolutely disgraceful". Police and the Football Association are investigating.
Six arrests mostly for public order and criminal damage were made.
Preston fans ran on the pitch and the ground was trashed after PNE's 1-0 win.
'Completely unacceptable'
A steward was injured after being trampled by a police horse during the pitch invasion.
Adrian King, 44, of Alford Fold in Fulwood, Preston has been charged with using threatening words or behaviour to cause harassment, alarm or distress over an alleged incident at Deepdale.
He was bailed to appear before Preston Magistrates' Court, on 20 August.
A 17-year-old boy from Blackpool has been charged with criminal damage to a Preston bus on Lowthorpe Road and bailed to appear before Preston Youth Court also on 20 August.
Two of the six arrested are still in custody, including a 17-year-old boy from Blackpool held on suspicion of using threatening, abusive, or insulting words or behaviour towards another person and causing them to fear unlawful violence and a Blackpool man, 21, arrested on suspicion of criminal damage on a bus at Preston railway station.
A boy, 17, from Blackpool was given a police reprimand for being drunk and disorderly in a public place, after being found in a concourse at the football ground.
'Ince's fury'
The other male arrested, a 20-year-old from Poulton was given an adult caution for possessing cocaine.
Ch Insp Emmett, who was in charge of policing of the match, said: "The disorder last night was completely unacceptable and we will be making significant efforts to locate and prosecute those involved."
Supt Richard Morgan said: "There was a significant minority of determined people from both sides who, throughout the day, before, during and after the game, were intent on causing problems."
Blackpool boss Paul Ince was furious fans were allowed to take to the pitch.
He said: "We've seen goalkeepers get hit and players get punched. When are we going to learn?
"When you've got 200 Preston fans running on the pitch and my players are still on the pitch, who knows?"
Seats broken
Ince added: "There's no control and is it going to take someone getting stabbed before we wake up and smell the coffee?"
He questioned whether there was adequate stewarding in the ground for the "big derby" between the rival clubs.
Preston North End's general manager Ben Rhodes refused to comment on Ince's remarks.
He said the club did not condone the pitch invasion, but added: "We did not see any fighting or rioting."
Mr Rhodes said thousands of pounds worth of damage had been caused inside the ground, the majority by Blackpool fans.
"There are hundreds of seats and, not just the seat part, the metal bars and all sorts broken.
"The majority of the damage in the stadium was in the away end."