Heysham caravan park stab death prompts murder inquiry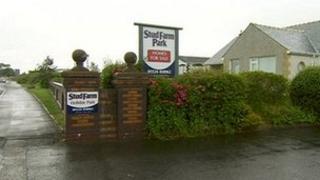 A man has died and a woman has been critically injured in a stabbing at a caravan park in Lancashire.
Both were found with serious stab wounds at Stud Farm Holiday Park in Heysham in the early hours.
The woman, 26, was stabbed in the neck, abdomen and back and her partner, 28, was found injured nearby. Both were taken to hospital, where the man died.
A 26-year-old man was arrested in Stoke-on-Trent on suspicion of murder and attempted murder.
It is believed the man arrested was known to both victims, police said.
Det Supt Paul Withers said officers are still searching for the knife used and called for anyone who heard any "commotion" at the park or saw any part of the attack to step forward.
He said: "This is a rare and appalling incident whereby a young man has lost his life and a young woman remains in hospital fighting for her life."