Summerland fire: Survivor recalls 'horror inferno'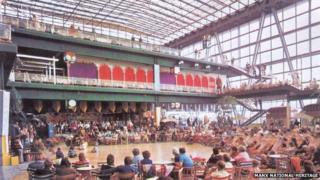 Fifty people - most of them holidaymakers from the UK - perished in a fire at a leisure complex in 1973. Forty years on, it remains one of the worst disasters in Isle of Man history.
Sally Naden remembers the terror of being trapped in the Summerland fire like it was yesterday.
"It was a horrific, horror inferno," said Mrs Naden.
"There was an explosion and then a huge wall of flames from the floor to the ceiling like a waterfall of fire coming towards us at great speed."
In 1973, Mrs Naden from Poulton, near Blackpool, was then Sally Tinker - a 17-year-old dancer waiting to take to the stage when fire ripped through the Douglas leisure complex.
"It was the most surreal experience. I didn't panic; I think I was just stunned."
She took a deep breath and her eyes widened as she relived the scene in the seven-storey building.
"It has never left me."
'Doors chained up'
The fire had been started by three youngsters who had been smoking near the crazy golf course outside.
"The compere was telling everyone to stay calm and stay in their seats... then there was a big bang, like a smoke bomb exploding," said Mrs Naden.
Pandemonium broke out, she said.
"It was 1973 and it was a different world. There was no fire alarm or sprinklers and no-one took charge.
"There were around 3,000 holidaymakers in Summerland and just two exits. The rest of the fire doors were chained up," she said.
"What made it worse was many parents were separated from their children who were on different levels.
"Instead of just getting out they tried to find their loved ones."
Smashed window
She recalled the horror of seeing parents throwing babies from the balcony.
"They knew they wouldn't get out and threw them in the hope someone below would catch them."
Mrs Naden, now a BBC Radio Lancashire presenter, was unable to reach either exit and followed a group of musicians who were trying to ram a reinforced glass window with a trestle table.
"It took all five band members to lift the table and it took a few attempts to smash it.
"I was safe in the car park but it was such a strange feeling to know not everyone was out.
"People were asking 'Have you seen my mother?' or 'Have you seen my daughter?'
"Summerland was an inferno and you knew they weren't getting out."
Her future husband Dave Naden was performing at the complex with his brother Peter and went to the dressing rooms to fetch their guitars.
"It sounds a crazy thing to do but we didn't realise the fire was going to [take such a hold]," he said.
"We had to jump across table tops to get to the fire exit."
They made it to a fire door only to find it chained and padlocked and had to run up two flights of stairs to find another exit.
The next day, a fire officer told him 11 people had died at the same door, unable to escape.
'Never came back'
A close friend of the couple, drummer Malcolm Ogden, was among the 50 who died.
Mrs Naden said: "He got out but said to his wife 'Wait here, I'm going back for the [symbols]'.
"His wife waited all day and night for him but he never came back."
Amid the tragedy, she said she witnessed acts of true heroism.
"A DJ stayed in the building to catch children being thrown down from the balcony."
When asked if he survived, she answered: "I don't know. I never saw him again."
There was no compensation for the survivors or the families of those who died.
"All we got was a ticket home," said Mrs Naden.
Mr and Mrs Naden recently returned to the Summerland site ahead of the 40th anniversary of the tragedy.
"I won't go back again," she said. "It brought back all these terrible memories and the awful things I witnessed.
"When I read the names on the new memorial of those who didn't make it, it really hit me how lucky we had been."
'Not in vain'
The Summerland Fire Commission conducted a public inquiry into the blaze and said there were "no villains" but that "human errors", a "reliance on an old-boy network" and "poor communications" led to the disaster.
No prosecutions were ever brought.
The UK government's chief fire adviser Peter Holland said the tragedy was caused by a "series of things that went wrong".
These included delays in calling the fire brigade and the use of a transparent plastic in the roof panels which had passed earlier fire testing but melted and dripped in the intense heat, burning people below and spreading the flames.
Mr Holland said victims "did not die in vain" as fire safety standards changed around the world as a result.