Cuadrilla seeks views on Lancashire fracking test sites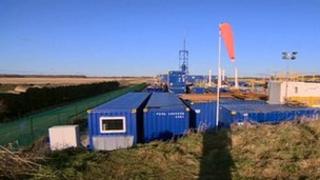 Residents are being offered the chance to give their views to shale gas firm Cuadrilla on a proposal for more test drilling in Lancashire.
The company plans to submit an application within the next few weeks for an exploration well in Clifton.
A consultation event will be held at Freckleton Sports and Social Club from 16:00 to 20:00 BST.
Residents can also give their views on proposals for the existing Grange Hill site at an event on Wednesday.
Opponents claim water used in the fracking process will be contaminated and could enter domestic supplies.
The company has previously announced it intends to apply for planning consent to hydraulically fracture and test the shale gas at its existing exploration well at Grange Hill.
'Committed to community'
The consultation event takes place at Elswick Village Hall from 17:00 to 20:00 BST on Wednesday.
A spokesman said Cuadrilla hopes to apply for consent to test drill at up to six new Fylde sites and further consultation events will take place from September.
Chief executive Francis Egan said: "We're committed to working with the community and are keen to take on board the views of local people as we continue to assess the full potential of Lancashire's Bowland shale."
But anti-fracking group Residents Action on Fylde Fracking said they do not believe the process can be done safely.
A recent survey by the British Geological Survey said there may be 1,300 trillion cubic feet of shale gas in the Bowland Basin, which stretches under Cheshire, Lancashire, Greater Manchester, Merseyside and Yorkshire.
The government announced shale gas drilling areas will get £100,000 in "community benefits" and 1% of revenues last month.
Fracking, or hydraulic fracturing, involves the injection of highly pressurised fluids into shale to extract gas.
It was temporarily banned in the UK after it was blamed for two earth tremors in Blackpool in 2011.
A government review has now concluded fracking is safe if adequately monitored.