Pigeon builds nest from nails and screws in Accrington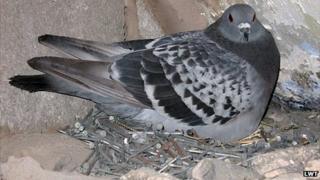 A pigeon has made a nest of nails and screws on a Lancashire building site.
Builders in Accrington were left "amazed" after discovering the metal nest inside a partially-constructed house.
Work has been halted around it until the eggs in it hatch and the chicks have fledged.
Lancashire Wildlife Trust's Alan Wright said he had "never seen anything like it". "My jaw dropped when I saw it but the bird is perfectly happy," he said.
He said the feral rock pigeon, a domestically bred variant of the wild rock dove, often used "ledges of buildings [as] an excellent substitute" for the sea cliffs and mountains used by its ancestors.
"Pigeons do nest in urban areas and sometimes use odd things to build those nests, but I have never seen anything like this before," he said.
Mr Wright said the eggs were expected to hatch in the next few days and the squabs will be ready to fly the nest when they are four weeks old.
He added that it was "great that the builders are taking care of this bird".
"They will probably be like a doting family when the chicks are hatched," he said.