Jonathan Ross to switch on Blackpool Illuminations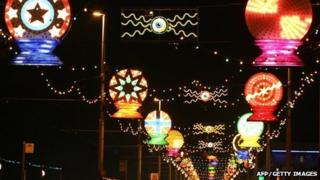 TV presenter Jonathan Ross is to turn on Blackpool's Illuminations this year in a ceremony on 30 August.
The former BBC chat show host will throw the switch after a gig on the promenade by Irish band The Script.
This year's promenade light show, which normally lasts nine weeks, runs for an extra week and will end on 10 November.
Ross said he visited Blackpool last year with his family and was "blown away by what a great place it is for families."
Natalie Wyatt, Managing Director of Marketing Blackpool, said: "We have wanted Jonathan as our official Switch-On star for some time so we are delighted he has accepted."
This year the resort has extended its Switch-On festivities for a weekend of concerts.
The extra week is being funded by Merlin Entertainments, which operates several of the town's attractions.
Research by the local council has found that in 2012 the Illuminations were "the single most important reason for visiting Blackpool in the Autumn" and around one million of its visitors named the lights as the primary reason for coming.