Preston Marina tyre nests 'double' common tern numbers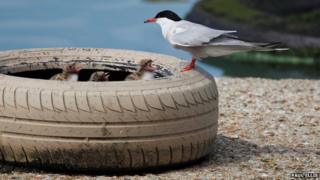 The introduction of recycled tyres as artificial nests at a Lancashire marina has "more than doubled" the number of common terns, according to organisers.
The scheme, set up by Preston City Council, Fylde Bird Club and RSPB saw the tyres placed at Preston Marina.
More than 80 pairs of terns have nested at the marina as a result of the project.
The RSPB's Clare Reed said the birds had been "struggling" in the area, so it was "fantastic to give them a home".
A plan to install the nests was hatched after experts noted that the birds were trying to nest on the breakwaters around the marina, but could not due to the lack of nesting material.
'Simply remarkable'
Fylde Bird Club's Paul Ellis said when the birds "first started to nest at the marina, they had hardly anything to nest on and we realised that it would be very easy to help them just by putting out gravel".
He added that it was "great to be able to see them so well in a city".
The colony at the marina, which sits alongside the River Ribble in the west of the city, is thought to have relocated from a breeding ground at Shotton in north Wales.
Ms Reed said that "despite what their name might suggest, common terns have been struggling in recent years".
"In the North West in particular, there has been a notable loss of them from some areas, so it is fantastic that the marina is able to give them a home."
Councillor Robert Boswell said that "to have such wonderful seabirds nesting and thriving in Preston is simply remarkable".
He added that he hoped the colony "can go from strength to strength and increase their numbers in the years to come".