Exhibition on the history of Chorley's war effort opens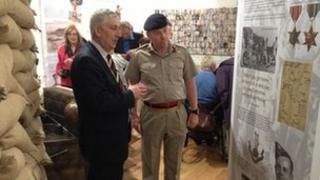 An exhibition charting the military history of a Lancashire town has opened.
Chorley MP Lindsay Hoyle officially launched the Chorley Remembers Experience in the Coach House at Astley Hall.
The exhibition features a collection of artefacts and activities including items donated by members of the public.
Historian Stuart Clulow said he was very proud to see his granddad's World War II medals on display.
He said: "I'm immensely proud of the collection we have got as a family because I know so many items have been sold out of families or thrown out.
"To see them on display is very humbling."
Mr Hoyle, chairman and co-founder of the Chorley Remembers Project, said the exhibition provides a "fascinating insight".
He said he was delighted so many families had donated artefacts to the exhibition.