MPs in London-Blackpool rail link plea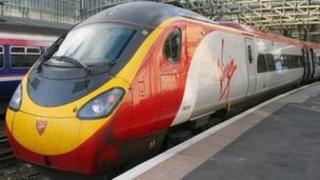 Blackpool's MPs have criticised Network Rail's block on trains running from London to the resort.
Network Rail rejected Virgin Trains application to run two trains a day between Blackpool and London.
Paul Maynard, Conservative MP for Blackpool North, said he was "disappointed" Network Rail had blocked "this vital link".
Labour's Gordon Marsden, (Blackpool South) added that detailed answers were needed from Network Rail.
Network Rail, which also blocked a similar plan from Virgin for trains to Shrewsbury, said: "Adding more services on to what is already the busiest mixed use railway line in the UK would mean a trade off with punctuality."
But Mr Marsden responded: "We need urgently to have some detailed analysis which justifies this decision, not an arrogant throw-away line about a trade-off with punctuality."
'Wrong call'
Mr Maynard added: "Network Rail argue that there is no space for the service. Yet all Virgin are doing is diverting a Lancaster service to Blackpool, so the only new track being used by that service is when the train turns left north of Preston - and that line has plenty of spare capacity.
"Network Rail have got this well and truly wrong, and I'm disappointed in them."
Mr Maynard said he was pleased Virgin Trains is appealing against the decision and that the link was backed by Prime Minister David Cameron in Prime Minister's Questions.
Mr Cameron, who responding to a question about the Shrewsbury link, told the Commons: "There is also a need for better links to Lancashire and Blackpool."
A Network Rail spokesman said it would not add to Tuesday's statement because an appeal was pending.
The last direct service from Blackpool to London was withdrawn by Virgin Trains in 2003.