Waverley FC celebrate promotion with open-top bus parade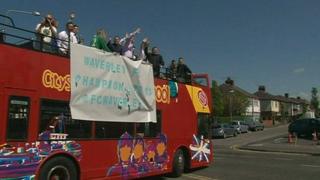 An amateur football team which won promotion after years of finishing near the bottom of the league have celebrated with an open-top bus parade.
Preston's Waverley FC won 15 out of 18 matches in Division Four of the Lancashire Sunday League to go up.
Manager Paul Hopkins said he was "amazingly proud" of the team who all "deserved this great day".
He added he would have "laughed in the face" of anyone who had predicted their title win at the start of the season.
The parade took the players through the streets of Preston near to where the team plays its home matches in Ribbleton Park.
Mr Hopkins said the team had always joked that if they won anything, they would take part in such a parade.
'Brilliant'
He said the side had been "terrible" in the 11 years he has been involved with them, "losing every game five or six-nil and even 11 or 12-nil sometimes".
He said he did not know why the team had suddenly become successful, because it was the "same sort of players" representing them as had for the previous seasons, but added it may have been "partly because I was manager for the first time".
However, he said he "can't take all the credit [as] the lads have been brilliant".
The team were unbeaten in the last 10 games of the 2012/13 season and only lost two games - one away at Burscough and one at home to Deepdale Dynamos.
Their campaign included a nine-one home win and six-nil away victory over bottom of the league Frenchwood.