Hopes to buy Silverdale Viking hoard for Lancaster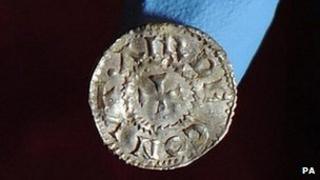 Councillors in Lancaster are to ask the county council to buy a hoard of Viking treasure found in north Lancashire.
The Silverdale Hoard was found in a field in September 2011, by a metal detecting enthusiast.
The 200 silver pieces, including bracelets and coins, was declared treasure and valued at £110,000.
Lancaster Council leader Eileen Blamire said she would like the city to pay a contribution to ensure the treasure is put on display in the city first.
However, given the costs associated with purchasing the hoard, which would also include conservation and display, a purchase by the city council alone is "unaffordable" in the long term, she said.
Ian Watson, Lancashire County Council's head of cultural services, said the council "would be happy" to consider "options for retaining this valuable part of Lancashire's history".
He added: "This must, of course, be against the backdrop of the very significant savings that all local authorities must make."
The hoard, currently in the British Museum in London, contained coins bearing the name of a previously-unknown Viking ruler of northern England.
It also includes 10 complete arm rings, two finger rings, six brooch fragments, a fine wire braid and 141 fragments of chopped-up arm rings and ingots, known as hacksilver.