Lia Green's mother convicted over daughter's death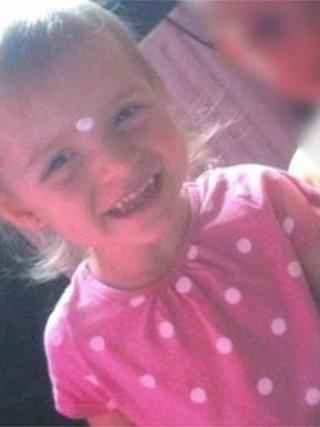 The mother of a three-year-old girl who died of massive internal injuries at the hands of her boyfriend has been convicted of child neglect.
Lia Green died on 30 August of injuries caused by a severe blow to the abdomen.
Her mother Natalie Critchley, 22, of Norris Street, Preston, had denied the charge at the city's crown court.
Lia's father Richard Green, 23, also of Norris Street, admitted manslaughter two weeks into his trial. Both will be sentenced on 24 May.
Emergency services were called to Lia's home after her parents said she was suffering from sickness and diarrhoea and was weak and falling asleep.
She was pronounced dead on arrival at the Royal Preston Hospital.
The trial at Preston Crown Court heard Critchley had started seeing another man, the parent of a child where she worked as a nursery nurse.
'Lost control'
She lied to her partner Green about going to pole-dancing lessons in order to continue the affair but he discovered what was going on in the weeks before Lia was killed, the court heard.
The prosecution told the jury Green "lost control" and inflicted the injury on Lia and Critchley failed to get medical help in time - otherwise the girl may have survived.
Steve Hoolohan, of the Crown Prosecution Service, said: "It was the prosecution's case that Natalie Critchley failed to seek medical help for her daughter when she needed it.
"At the heart of this tragic case is an innocent three-year old girl, who lost her life at the hands of her own father who should have protected her from harm.
"He must now face up to the consequences of his terrible crime.
"Of course today's outcome will not bring Lia back and I would like to offer my sympathies to those who were close to her. My thoughts are with them at this difficult time."
'Failed mother'
Det Supt Andy Murphy, of Lancashire Police, said: "The post-mortem examination revealed that Lia died as a result of receiving a significant blunt trauma to her abdomen that had to have been caused by a significant violent act, and not from her falling from a swing, as was suggested to us when we interviewed Green.
"Natalie Critchley failed in her duty as a mother, to care for and save from harm her little girl.
"Lia had her whole life ahead of her and the people who should have been protecting her have let her down in an unthinkable and unimaginable way."