Conservatives lose control of Lancashire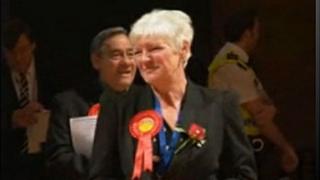 The Conservative Party has lost control of Lancashire County Council.
The Labour Party made 23 gains but fell four seats short of getting overall control of the county. It now holds the majority with 39 seats.
Labour Party leader Ed Miliband had targeted Lancashire as a key battlefield.
Among the other results was the British National Party's (BNP) loss of its only county council seat in the country.
The BNP's Paul Robinson lost the Padiham and Burnley West vote to Labour's Marcus Johnstone.
Sharon Wilkinson won the seat in the 2009 county council elections but she did not stand.
The party did not win any of the other five seats it was contesting nationally.
Labour held power in Lancashire for 28 years until the Conservatives seized power in the last elections held in 2009.
The Conservative Party lost 16 seats in the poll.
The Labour Party made 23 gains and now hold the majority with a total of 39 seats, just short of 43 seats needed for overall control.
Jennifer Mein, Labour's group leader, who held her Preston South East seat, said she was "delighted to more than double the number of county councillors".
"We have connected with the people; we have 38% of the vote here in Lancashire that is far and away the greatest percentage," she said.
"I'm very, very happy we have got some excellent county councillors that we will be working with."
The Tories now hold 35 seats while Liberal Democrats made three gains, winning six seats.
Independents won three seats and the Green Party won one seat in Lancaster Central.
Former county council leader Geoff Driver, who won his Preston North seat, said the results were a "big disappointment".
He said: "We live in a democracy though and I will abide by the people of Lancashire have said."
Liberal Democrats group leader Bill Winlow also held his seat in Preston West.
In Accrington North, Independent councillor Malcolm Pritchard lost his seat to his daughter Labour's Clare Pritchard.
Overall turnout for the county was 31.27%.
Phil Halsall, chief executive of Lancashire County Council (LCC), said: "As no party has a clear majority, the main parties will need to consider the options for the future political governance of the council.
"These discussions will be taking place as a priority and an announcement will be made as soon as possible."
The leader of LCC is due to be formally appointed at the next full council meeting at County Hall on 23 May.
The county council provides up to 85% of all local government services in Lancashire, including social care, roads, public transport and libraries.
A total of 84 seats, covering the 12 Lancashire district councils, were contested. The results can be found on the BBC election website.