Pendle UKIP candidate Ken Bell stands down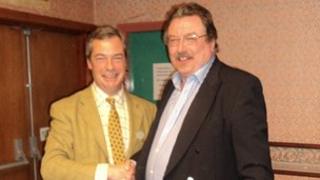 A UKIP candidate who wrote an offensive tweet about Margaret Thatcher has withdrawn from local elections following an "extremely sarcastic" email exchange with a female activist.
Ken Bell was standing in Pendle Central in the Lancashire County Council elections on 2 May.
UKIP north west regional organiser Fred McGlade said Mr Bell was suspended over emails "offensive to women".
Last week Mr Bell tweeted "sympathies" to the devil for hosting Mrs Thatcher.
Mr Bell exchanged emails with a woman following an online debate about UKIP's national billboard campaign on immigration called "Enough's Enough".
He admitted his emails were "extremely sarcastic" and "derisory" but said he stood by them.
'Manoeuvred out'
But Mr McGlade said: "It was aggressive and offensive to women in general.
"When I saw [the messages] I was appalled and thought this is not acceptable to us as a party."
He added: "It was not over a tweet over Margaret Thatcher's death.
"He was under suspension when he voluntarily stood down; his membership had not been cancelled."
Mr Bell said he had "mixed messages" from Mr McGlade, who he alleges "manoeuvred" him into standing down after he tweeted "sympathies go to His Satanic Majesty for having to host" the ex-prime minister who died last week aged of 87.
Mr Bell said: "I have no regrets about my email exchange or my Thatcher tweet.
"I am still a member in good standing of the party and have no plans to resign from UKIP."