Government rejects Halite plan to store gas under Lancashire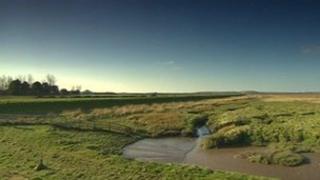 A plan to store natural gas in caverns under Lancashire has been rejected by the Department of Energy and Climate Change (DECC).
Halite Energy Group planned to store up to 900 million cubic metres of natural gas in 19 purpose-built caverns at Preesall.
A DECC spokesman said the application had "failed to demonstrate the suitability of the site's geology".
Halite chief executive Keith Budinger said he was "extremely disappointed".
The company had claimed the planned facility would create up to 3,000 jobs across the UK.
However, the plan was opposed by Wyre Council and Lancashire County Council, which submitted a report saying the development would damage the rural and coastal landscape.
Extensive development
The DECC spokesman said department minister Greg Barker had "carefully considered the need for UK strategic gas storage but refused this particular application".
"Each application must be considered on its merits [and] the refusal is due to a specific issue - the application failed to demonstrate the suitability of the site's geology for salt cavern storage," he said.
Mr Budinger said Halite had "worked strenuously over the past three years, during which our application has been scrutinised through a rigorous planning process".
"We will now need time to examine the reasons behind the turn down carefully before deciding on our next steps," he said.
Wyre Council's chief executive Garry Payne said the decision to refuse permission was "the right one", adding that it would have resulted in "significant and extensive industrial development in the open countryside".
"While we have supported appropriate development and job creation in the borough, impact upon the countryside and our communities cannot be ignored," he added.