'Oldest season ticket' returned to Burnley Football Club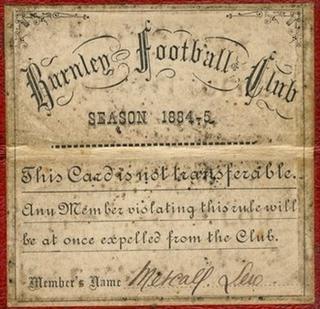 The oldest surviving Burnley FC season ticket, issued almost 130 years ago, has been returned to the club.
The document, then referred to as a member's card, dates back to the 1884-85 season - only the third campaign after the team was founded.
A club spokesman said it could be the oldest season ticket still in existence "anywhere in the world".
It was presented to the club by the great grandson of former Burnley player Leonard Metcalfe.
Metcalfe first appeared for the team in 1883 as a winger, but later became a left back.
His great grandson David Metcalfe, originally from Burnley but now living in Bristol, has given the item to Burnley FC.
The ticket pre-dates the inception of the original Football League by four years.