Radioactive canister stolen in Bacup found in Rochdale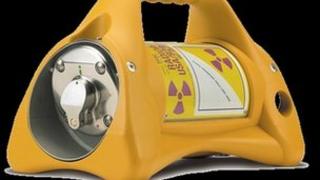 A canister of radioactive material stolen from a van in Lancashire has been found in a retail park in Greater Manchester.
It was taken from the back of a van in Bacup between 16 and 17 February.
A suspicious package was found at Point Retail Park in Rochdale at about 12:45 GMT. It was declared safe by police and has been removed.
Police said the material, believed to be Iridium 192, was not dangerous while it remained in the canister.
Supt Chris Hankinson said: "This has caused some disruption this afternoon but we have to put the safety of the public first.
"Highly trained officers have assessed the canister and there aren't any leaks or safety concerns.
"Enquiries are ongoing to trace anyone involved," he added.