Lancashire fracking delayed until 2014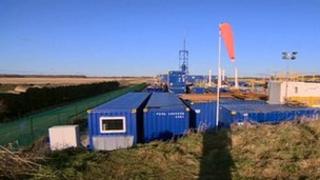 The shale gas company Cuadrilla has delayed its plans to carry out fracking in Lancashire until 2014.
It is to carry out Environmental Impact Assessments (EIA) at its existing and planned new sites where drilling and hydraulic fracturing will take place.
It said explorations have already found the 1200 sq km licence area holds at least 200 trillion cubic feet of gas.
Chief Executive Francis Egan said the assessments could be "lengthy" but should be finished by next year.
He said Cuadrilla's explorations in Lancashire's Bowland basin suggested gas with a market value of £136bn was present.
It is now looking for planning consent for drilling, hydraulic fracturing and flow testing to take place.
'Socially sustainable'
The firm has applied to Lancashire County Council to frack for shale gas at its Anna's Road site in St Annes and Banks, near Southport.
Fracking is a technique where water and chemicals are pumped into shale rock at high pressure to extract gas.
Opponents are particularly concerned about the contamination of waste or flowback water once it has been used in the fracking process.
Fracking was temporarily banned in the UK after it was blamed for two earth tremors in Blackpool in 2011.
A government review has now concluded that fracking is safe if adequately monitored.
Mr Egan said: "We recognise that within the complex UK regulatory framework governing planning this process can prove lengthy but we are determined to spare no effort in meeting our exploration targets in an environmentally and socially sustainable manner."
He said Cuadrilla is also planning more temporary exploration sites during 2013 and 2014 to assess gas flow rates.
These plans would be discussed with local communities, he said.
Friends of the Earth's North West campaigner Helen Rimmer said: "Cuadrilla's decision to delay fracking in Fylde is great news for local people, but other Lancashire communities are still at risk.
"The government must switch from potentially harmful shale gas to a power system based on clean British energy and slashing waste."