Bid for referendum on Fylde Borough Council decisions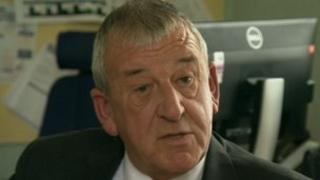 Campaigners are aiming to force a referendum on the way decisions are made at Fylde Borough Council.
The Fylde Civic Awareness Group (FCAG) wants the authority to go back to the previous system of committees making decisions rather than the cabinet.
FCAG's Fred Moor claimed the cabinet system was undemocratic as only seven councillors were involved in decisions.
Leader of Fylde Council David Eaves argued the whole council was able to take part in outcomes.
'Not represented'
At the launch of a petition at the Glendower Hotel, St Annes, Mr Moor said there was "a swell of support for what we are doing".
He said: "With the previous system all 51 councillors had the right to vote. At present, councillors only have the right to ask questions and they have no right to vote."
Palmira Stafford, a fellow campaigner, said: "I live in Kilnhouse ward and none of our three councillors who represent ward are on the cabinet.
"So in effect we feel we are not represented."
Conservative councillor Mr Eaves said the argument there was only seven councillors involved in decisions was "untrue".
He said: "There are also committees within the cabinet system which run day-to-day working of Fylde Borough Council."
"If a decision is called in, it can then be sent to the whole council where all 51 councillors can debate it for as long as they wish."
Five per cent of the electorate must sign the petition to hold a referendum, which would cost the authority an estimated £100,000.
Ms Stafford said it was "a price worth paying" to return to the committee system.