Lancashire shale gas 'could be worth billions'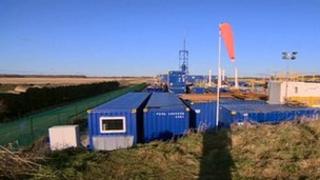 Shale gas resources in Lancashire could be worth billions of pounds, says the head of the energy firm test drilling for the resource.
Cuadrilla Resources chief executive Francis Egan said it also has "huge economic potential" for Lancashire.
"It is probably one of the largest gas discoveries ever made in Europe, never mind the UK."
The firm announced it is to apply to resume fracking at its Anna's Road site in St Annes on Monday.
'Huge risks'
"It's a very significant, exciting discovery," Mr Egan said.
"Lancashire is sitting on the threshold of a potentially huge economic opportunity... to be the first mover."
Fracking is a technique of shale gas extraction that involves pumping water and chemicals into shale rock at high pressure to extract gas.
The technique has met with opposition with anti-fracking protesters wanting it to stop until risks are fully assessed.
Tina Rothery of Residents Against Fylde Fracking (RAFF), said the process posed "huge risks to the environment".
It was temporarily banned in the UK after it was blamed for two earth tremors in Blackpool in 2011.
A government review has now concluded that fracking is safe if adequately monitored.