David Guilfoyle's daughter says funeral will give family 'relief'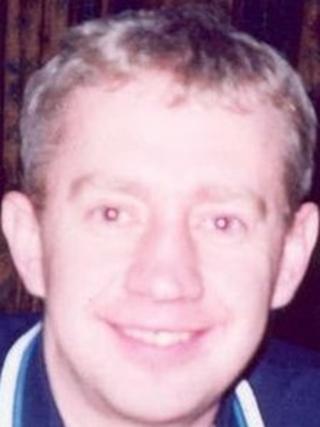 The daughter of a man whose body was found in woodland seven years after he was murdered has said his funeral will give his family "some relief".
David Guilfoyle, 37, of Accrington, was murdered by Shane Fitzpatrick at his home in May 2005, but his body was not found until November 2012.
His funeral will take place in Accrington later.
Samantha Feeley said the service would be a chance to remember "a great man and loving father".
Detectives searched woods in Bolton-by-Bowland after Fitzpatrick, who was convicted of the murder in July 2006, confessed to the whereabouts of Mr Guilfoyle's body.
Fitzpatrick told officers he had buried the body in a shallow grave in the woods in the early hours following the murder.
Mr Guilfoyle disappeared after leaving the Grey Horse pub in Accrington and, at trial, the court was told Fitzpatrick killed him out of revenge after he began seeing his former wife.
Ms Feeley said that "after a number of hard years, it is with some relief that I can finally lay my dad to rest knowing he will be at peace".
"For all of his family, friends, and acquaintances, I hope that anyone impacted by his loss can take comfort with the knowledge that the uncertainty is over," she said.
"We can look forward to remembering a great man and loving father."
She added that she wanted to thank Lancashire Police "for all of their dedicated work and support throughout [and] the search team for their tireless efforts".