Cardiff fan 'shaken' by alleged fall through Blackpool stand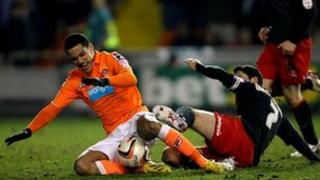 Blackpool Football Club is being investigated by the town's council after a fan allegedly fell through a hole in one of its stands.
The fan allegedly fell after a board broke in the East Stand during Cardiff City's game at Blackpool on Saturday, a spokesman for the Welsh club said.
He said the fan had been left "shaken but not injured" by the fall.
Councillor Gary Coleman said Blackpool had reported the incident to the council and an investigation had begun.
"We are investigating a report that a board in the away stand broke whilst fans were standing on it," he said.
Nobody from Blackpool FC was available for comment.