Cuadrilla bids to resume Westby and Banks fracking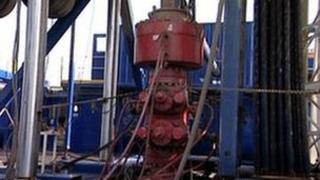 A company carrying out shale gas extraction in Lancashire is hoping to resume fracking on the Fylde coast.
Cuadrilla is to submit a planning application to Lancashire County Council to hydraulically-fracture a well at its Anna's Road site in Westby.
Managers are to meet residents in February to explain more about what is involved in the extraction process.
Cuadrilla staff will also meet residents of Banks near Southport later over plans to drill for gas there.
Protesters say fracking could have "enormous implications" for the local area.
Tony Young, of Ribble Estuary Against Fracking, said: "We're missing out on unlimited supplies of renewable energy.
"This is just distracting us from that."
Cuadrilla Resources chief executive Francis Egan said: "It's about exploiting our natural resource - we're running out of it.
He said there was "nothing wrong" with renewable energy "but it's not going to be enough".
Fracking is a controversial process that involves pumping water and chemicals into shale rock at high pressure to extract gas.
It was temporarily banned in the UK after it was blamed for two earth tremors in Blackpool in 2011.
A government review has now concluded that fracking is safe if adequately monitored.