Heysham-M6 road link 'could start in July'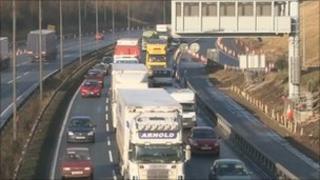 Work on a major road-building project linking Heysham and Morecambe to the M6 could start within months, the Minister for Transport has said.
Simon Burns made the announcement in response to a question from David Morris, Conservative MP for Morecambe and Lunesdale.
The government has to make a final decision on the plans by 19 March and, if approved, work may start in July.
The £123m project could be completed by December 2015.
Mr Morris said it was "excellent news", adding "the road will be an asset to the area and for the economy".
A number of design changes have cut the cost of the scheme from £139m to £123m since original plans were given the go-ahead in 2010.
The Department for Transport will contribute £111m to the redesigned project, with Lancashire County Council funding the remaining £12m.