Royal Lancaster Infirmary trust fails in vascular unit appeal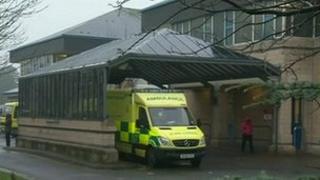 The NHS trust that runs the Royal Lancaster Infirmary has failed in its bid to continue specialist vein and artery surgery at the hospital.
The University Hospitals of Morecambe Bay Trust (UHMBT) had been battling against proposals from NHS Lancashire to centralise vascular services.
Under the plans, specialist centres will be set up in Blackburn, Carlisle and Preston.
The UHMBT said it was now considering possible grounds for a judicial review.
Sir David Henshaw, Chair, UHMBT said he was "extremely disappointed" with the decision which he called "fatally flawed".
He said: "Our vascular unit has evolved under the strong influence of its consultant staff.
"It has developed a regional and national reputation, based on excellence of speciality training, and has played its part in national and international research and development.
"We are aware of the local strength of feeling in support of our appeal and would like to thank all of our staff, governors and stakeholders for their assistance."