Preston Guild Hall could be bulldozed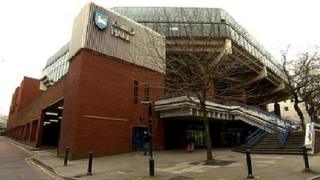 Preston Guild Hall could be demolished because it costs £1m a year to run.
Council leader Peter Rankin said the authority could not rule out bulldozing the venue to help save money.
But the council is also looking at whether a business from the entertainment industry could take over the building.
Last month councillors voted to demolish the city's bus station - but it could be saved by an unnamed businessman.
Mr Rankin said: "We are actually trying to improve Preston although I can understand people feeling that we are wrecking the city."
'Difficult position'
He added: "I didn't come into politics to demolish things - but the government has put us in a very difficult position."
The Guild Hall opened in 1972 as part of that year's Preston Guild celebrations.
It is a regular entertainment venue with concerts at its Grand Hall and it was once the regular host of the UK Snooker Championships.
But a lot of the retail space in the complex is unoccupied, including the site of a former supermarket.
Councillor Tom Burns, who is responsible for leisure services, said government spending restrictions have made the Guild Hall's future uncertain.
He added: "Leisure services, museums, entertainment complexes like the Guild Hall will not be financed in the future by the government.
"We're OK next year because we've made some savings but everything is under review at the moment and the Guild Hall is one of them."
In December councillors voted in principle to demolish the bus station which is linked to the Guild Hall but the council is negotiating with a local businessman who might save the station, which opened in 1969.