Blackpool residents back Queens Park regeneration plans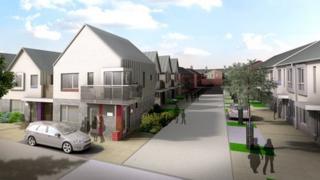 Residents of a Blackpool estate earmarked for regeneration have praised the council's choice of developers.
Blackpool's only tower blocks (five in all) are set to be demolished later this year as part of the redevelopment of the Queens Park estate.
Blackpool Council has revealed Lovell as preferred developer for this £22m programme.
Gwen King, chair of the Queens Park Residents Association, described the announcement as "great news".
"We're delighted, the brief was that we should get something very contemporary, and that is what they have done," she added.
'Pester power'
The scheme will see 198 houses and apartments built on the council-owned estate over the next six years, replacing five tower blocks and other existing homes.
Construction work is expected to start in summer 2013.
Each resident is guaranteed a home on the new estate.
"That was the result of pester-power," said Ms King
About 180 homes will be managed by Blackpool Coastal Housing -the council's arm's-length management organisation - with 18 properties for open market sale.
Cllr Gillian Campbell, the cabinet member for housing, said: "The skyline of Blackpool will change forever when the tower blocks are demolished but these plans show a much brighter future."