Blackpool police officers' drowning tragedy recalled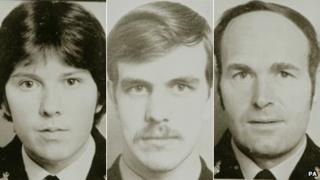 On a winter morning 30 years ago, one man's efforts to rescue his pet from the sea set off a chain of events which cost his own life and those of three police officers.
On the anniversary of the tragedy, the heroism of PCs Angela Bradley, 24, Gordon Connolly, 23, and Colin Morrison, 38, is being commemorated in Blackpool with plans for a new memorial to the resort's emergency services.
The new statue, which will be on the cliff tops close to where the officers died, will honour all "unsung heroes" killed while doing their jobs.
This year's memorial service comes just under a week after Paul Morris, 41, was swept into the sea while walking his dog, two and a half miles away.
Memories of 5 January 1983 are vivid for the colleagues of the officers who lost their lives.
Control room sergeant Jim Burnell, recalled how his team were looking forward to the end of their "early turn" shift when a 999 call just before 14:00 GMT reported a man in the sea near Gynn Square.
"Immediately four patrols with four different officers took off," said Mr Burnell, 81.
"The spirit among those young officers was very, very good - you could trust them to go anywhere and do anything - in fact you sometimes had to put the reins on them when a call went out in case they got in each other's way."
Scottish holidaymaker Alistair Anthony, 25, went into the sea to rescue his Jack Russell dog only to find himself trapped in choppy waters which were being whipped up into crashing waves.
PCs Bradley and Connolly were among the first to try and rescue Mr Anthony with a promenade lifebelt but the sea was too strong for them and they were swept away.
As the emergency services headed to the scene, road traffic officer PC Morrison, 38, stopped his car and joined the rescue attempt but the heavy sea, reinforced by the strong westerly gale, was too much for him.
The conditions were so bad, the lifeboat from neighbouring Fleetwood took three hours to get to the area and even then it could only get within 68m (223ft) of where the officers had last been seen.
"In those conditions the sea has a habit of picking somebody up and throwing them against the sea wall and then back out to sea and that is exactly what happened to another officer - PC Pat Abram," said Mr Burnell.
Despite being injured, PC Abram went back into the sea to attempt to save PC Morrison but was thrown again at the sea wall.
Back at the control room colleagues were listening with mounting horror.
"The chief superintendent put out an order that nobody else was to go in the water," said Mr Burnell.
Meanwhile, PC Abram had been dragged from the sea after another officer threw him a lifeline.
"Quite coincidentally there was a doctor, who was a cave rescue expert, walking by and Pat Abram will tell you today the doctor saved his life. It was nothing short of a miracle," said Mr Burnell.
A Lancashire Police spokesperson said huge lessons had been learned since the incident and officers are advised not to jump into dangerous seas and to wait for more specialised help to arrive.
The idea for a new 999 memorial came from Dana Gledhill, a senior prosecutor with the Crown Prosecution Service, who said a memorial garden to the officers was looking "rather neglected".
'Absolutely frightening'
"I've never done anything brave in my life, I'm not expected to put myself at risk, I've never saved any lives and yet we seem to take for granted those who do so as a matter of routine," she said.
Mr Burnell said the officers' rescue efforts demonstrated their "remarkable bravery".
He said: "It was the kind of incident where you would expect them to do what they did - they were like a family.
"In those conditions those officers must have been absolutely remarkable, there is no other word for it. It must have been frightening, absolutely frightening."
Others to be honoured include Supt Gerry Richardson who was shot dead during an armed robbery in Blackpool in 1971 and firefighter Raymond Laycock who died fighting a fire at the Boots store in Blackpool in 1936.
"It is a very simple design, there are four figures linking hands, showing protection service and that they are there to help and when you reach the top you see they are people who could be anybody," said designer Matthew Titherington.