Blackpool FC bans two fans for play-off ticket sell-on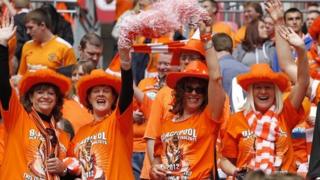 Blackpool FC has banned two fans who sold on tickets which led to ugly scenes in the club's play off game against West Ham at Wembley in May.
The club said the fans were banned for selling on 700 tickets to opposing fans in the Blackpool section.
Blackpool apologised to supporters "who will remember their 2012 Wembley trip for all the wrong reasons".
Fans complained they were spat on and had fluid thrown at them by rival supporters.
Message boards on fan websites were flooded with comments from fans who complained about the abuse and aggression they experienced from West Ham fans sitting in a segregated area.
'Farcical'
Glenn Bowley, chair of the Blackpool Supporters Association, said the fans group welcomed the club's apology.
But Mr Bowley said supporters were also owed an apology from the authorities at Wembley Stadium, alleging its stewards did nothing to deal with the West Ham fans' anti-social behaviour.
"The stewarding was absolutely farcical", he said.
A statement on the club's website said: "There were errors of judgement in respect of sales.
"The club have since banned two individuals who purchased a large number of tickets that subsequently ended up in the hands of West Ham United supporters.
Blackpool said the individuals provided "convincing assurances that the tickets were for Blackpool FC supporters".
However it added: "The club can also confirm that the staff members responsible for these sales deeply regret their naivety and flawed thought process on this matter and internal action is being taken and policies thoroughly reviewed and updated as required."
A club spokesman said around 700 tickets had been sold to two individuals, one of whom was a season ticket holder who was well known to the club.
The club had thought the tickets were for corporate use.
Blackpool held discussions with the Football League, Lancashire Police, the authorities at Wembley and The Independent Football Ombudsman.
A report by the ombudsman is due in the New Year.