TV death baby Kian McMillan's mother cleared of manslaughter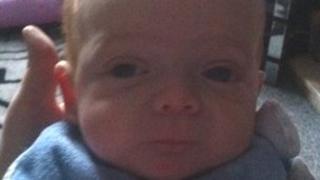 The mother of a four-month old baby who died when a television fell on his head has been cleared of manslaughter.
Kian McMillan, from Burnley, suffered a brain injury in the incident on 6 December last year and died in hospital the following day.
Natalie McMillan, 25, had pleaded guilty to child neglect earlier in the trial at Preston Crown Court but denied manslaughter by gross negligence.
On Thursday Kian's father, Edward Hanratty, 41, admitted child neglect.
The court heard McMillan tried to move the television to plug in a scart lead so she could watch a DVD when it toppled off a cupboard.
It fell on to her son, who was lying on a mat on the floor.
Parents 'staggering'
When giving evidence she claimed ex-partner Hanratty was the person responsible for the television falling and said she was upstairs in bed when it happened, having taken heroin and valium.
She said she decided to accept the blame on his behalf from the moment she made the 999 call from the address in Scarlett Street.
Prosecutor Suzanne Goddard QC said she was lying.
"She has to find a way out and the only way out now is to falsely accuse Edward Hanratty," she said.
The jury was also told that when paramedics arrived both parents appeared to be under the influence of drink or drugs and were seen to stagger with their eyes closing.
A police officer who followed the couple as they were taken to hospital thought they were intoxicated and also said she had to tell both "more than once" to come inside the hospital because they were smoking cigarettes outside, said the prosecutor.
Drug tests later confirmed McMillan had taken heroin and valium close to the incident and Hanratty had used heroin and cocaine in the previous 24 hours.
A police search also found valium tablets in the baby's cot.
McMillan, now of Clarendon Road, Leeds, and Hanratty, of Dirkhill Road, Bradford, will both be sentenced on 31 January.
Hanratty will also be sentenced for conning £20,000 off a man claiming he needed to pay court fines. He admitting obtaining money by deception in a separate hearing at Bradford Crown Court.