Pendle leader Joe Cooney says cuts 'not so bad'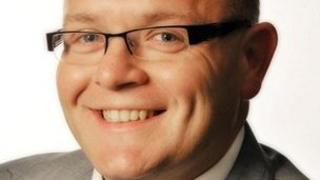 The leader of a council facing cuts of almost 9% said the situation was "not as bad as feared".
Pendle Council leader Joe Cooney insisted it had come out "reasonably well" from the cuts outlined by Communities Secretary Eric Pickles.
However, Hyndburn Council leader Miles Parkinson said the cuts were "dire" for east Lancashire.
Three authorities, Burnley, Hyndburn and Pendle, are facing an 8.8% budget reduction next year.
They are among seven authorities in the country which were handed the most severe savings target.
Mr Cooney, who runs the Conservative-led council, which has an overall budget of £8.5m, said it was still working on the figures but the news was "better than expected".
He said ministers had listened to authorities in awarding the transition grant, now called efficiency support grant, to the worst-hit councils.
"It works out at nearly £1m to us which we weren't expecting," he said.
"Overall we all have to our bit to reduce the deficit."
He added: "We will try and restrict the number of staff we have to lose but I can't give any guarantees at the minute."
Mr Parkinson, at Labour-run Hyndburn, "welcomed" the efficiency support grant, which equates £1.2m for two years, but said it was "a stay of execution".
He said the authority, which has an overall budget of approximately £16m, now has "tough decisions" to make 8.8% cuts.
"We have made efficiency savings, reduced staff and moved services around but now we will have to look at services which have to go," said the Labour councillor.
Burnley Council's chief executive Steve Rumbelow described the cuts as "unfair and unreasonable".
Mr Rumbelow said: "We have been planning for something around 8% and the decisions will be made tonight to deliver approaching £2m worth of cuts and that will get us close to where we need to be to reach that figure."
However, he said "more disturbing" was the threat of losing a supplementary special grant of £1.7m.
He said although Burnley Council has made savings in "the smartest way possible" if it loses the special grant it will have to make "radical cuts at a speed in which we can't protect services".