Bottle Stop campaign widow's petition for Downing Street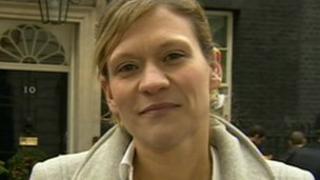 The widow of a man who died after he was slashed with a broken bottle has handed a petition into Downing Street calling for the use of plastic bottles.
Phillip Sherriff, 37, from Preston, was at a London nightclub in April when Ashley Charles, 26, snatched his bottle and attacked him.
Charles, from Leicester, was given a life sentence for the murder.
Jane's Sherriff's petition of 119,000 names aims to get glass bottles banned from late-night venues.
Her husband, a father-of-two, was attacked at Pulse in Southwark, during an event which included a live performance by singer Jessie J.
'Specific venues'
Mrs Sherriff said "Three months into my grief I thought 'I have to turn this around. I have to make something good come out of Phil's death'.
"I'm not asking for a blanket ban in a hotel or a restaurant, I'm looking at specific venues where you know problems are going to occur."
She added that support for her Facebook campaign, Bottle Stop, had been "overwhelming".
Mrs Sherriff set up the campaign after meeting Marjorie Golding whose son was scarred for life after being attacked with a broken bottle outside a Milton Keynes club in 2004.