Investor may save Preston bus station from demolition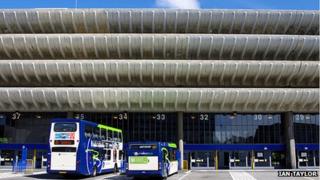 Preston bus station may be saved from demolition by an anonymous Lancashire businessman, the city council leader has said.
Preston City Council voted on Monday to demolish the building because running costs were too high and refurbishing it could cost up to £23m.
But council leader Peter Rankin has revealed a potential investor may be interested in the bus station.
He said they have arranged to meet to discuss his ideas.
Mr Rankin said the decision to demolish the bus station came with the caveat that he would listen to anyone who wanted to invest in the site.
The Labour leader said: "He is coming to see us to talk through his ideas. Clearly if we were to hand the building over to a business we would need to know what that businessman is going to do with it.
"We need to be assured the bus station not just stays but there is investment in this building."
Mr Rankin said the building has £300,000 annual running costs and the bill to install new lifts, ramps and carry out repairs to the concrete would be £5.4m.
He said demolishing and rebuilding a new, smaller station was better value for money.
"We are doing our best to save it because it is a real landmark building," said Mr Rankin.
"We cannot afford to run it. We don't have the money - our backs are against the wall."
Heritage campaigner John Wilson said despite the financial problems associated with the station any delay is a chance to save it.
He said: "This building is an icon. It's unique in its design, it's part of Preston.
"I know there's a problem on the financial side, but something as vast as this, that works, you cannot just wipe it away and say it's on the scrap heap."