Preston Bus Station: Council agrees to demolition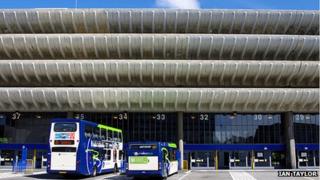 A "unique" bus station is to be bulldozed after council leaders said it was too expensive to refurbish.
The cost of revamping Preston's city centre bus station could be as much as £23m, council officials believe.
Labour leader Peter Rankin said the decision to demolish came with the caveat that he would listen to anyone who wanted to invest in the site.
Heritage campaigner John Wilson said: "This building is an icon. It's unique in its design, it's part of Preston."
He added: "I know there's a problem on the financial side, but something as vast as this, that works, you cannot just wipe it away and say it's on the scrap heap."
Mr Rankin said the 43-year-old building costs £297,000 to run annually and the repair bill would be £5.4m to install new lifts, ramps and concrete work.
He said demolishing and rebuilding a new, smaller station was better value for money.
The proposal to demolish was passed at a meeting of the council executive.
In supporting the decision, cabinet member for community and environment Robert Boswell said he was behind the decision to demolish in the hope it would bring forward funders to save the building.
Matthew Brown, cabinet member for community engagement and inclusion, said the decision had to be taken as it would cost a 24% rise in council tax to fund refurbishments.